Property Buying Guide Tenerife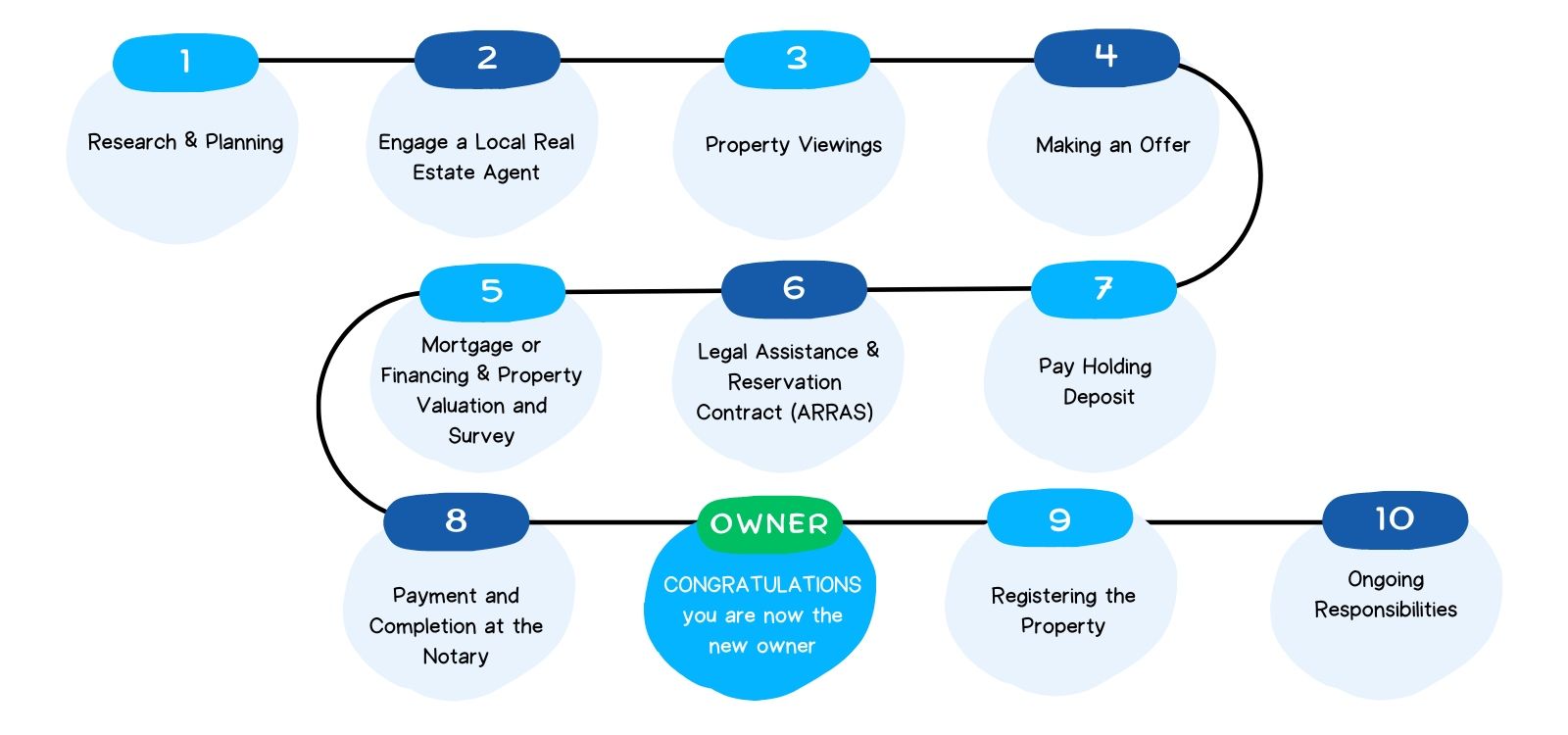 Research and Planning:
Start by researching the property market in Tenerife to familiarize yourself with the available options, prices, and legal requirements.
Determine your budget and consider additional costs such as taxes, legal fees, and maintenance expenses.
Decide on the type of property you're interested in, such as an apartment, villa, or a house.
Engage a Local Real Estate Agent:
Find a reputable real estate agent in Tenerife who specializes in the area and type of property you desire.
Seek recommendations from friends, family, or online resources to ensure you work with a trustworthy agent.
Property Viewings:
Arrange property viewings with your chosen real estate agent. Visit a variety of properties to compare and assess their suitability.
Take note of important factors like location, amenities, access to transportation, and proximity to essential services.
Making an Offer:
Once you have identified a property, work with your real estate agent to make an offer to the seller.
Negotiate the price and other terms and conditions, such as completion date and inclusion of furnishings.
Mortgage or Financing:
If you require a mortgage or financing, contact banks or lenders in Tenerife to explore your options.
Compare interest rates, repayment terms, and eligibility criteria before selecting a suitable financial institution.
Property Valuation and Survey:
Consider obtaining a property valuation or survey from a qualified professional to ensure the property's condition and value align with your expectations.
Legal Assistance:
Hire a qualified solicitor or legal advisor who specialises in property transactions in Tenerife.
Your lawyer will guide you through the legal process, review contracts, and ensure compliance with local laws. They will also help you obtain a foreigners identification number (NIE) and open a Spanish bank account.
Reservation Contract (ARRAS):
If your offer is accepted, your lawyer will help you draft a reservation contract.
The contract will outline the terms of the purchase, reservation period, deposit amount, and any contingencies.
During the reservation period, your lawyer will conduct a thorough investigation of the property's legal status.
This includes verifying ownership, checking for encumbrances, and ensuring the property has all necessary permits and licenses.
Pay a Holding Deposit:
Once all legal checks are completed, and both parties agree on the terms, you will sign the purchase contract and pay a holding deposit usually 10% of the purchase price.
The contract will include details of the property, purchase price, payment terms, and completion date. 
Payment and Completion at the Notary
Transfer the necessary funds to your lawyer's escrow account usually before the completion date.
On the completion day at the notary, your lawyer will oversee the transfer of ownership and payment to the seller.
Registering the Property:
After completion, your lawyer will assist you in registering the property in your name at the local Land Registry office.
This step ensures your legal ownership and protects your rights as a property owner in Tenerife.
Ongoing Responsibilities:
Set up utilities and services such as community fees, water, electricity, and internet for your new property.
Consider insuring your property and hiring a property management company if you plan to use your property as a rental investment or if you require assistance with maintenance.
Remember, buying property in Tenerife involves legal and financial considerations, so it is crucial to seek professional advice throughout the process to ensure a smooth and successful transaction.
---
Main Costs of Buying a Property in Tenerife:
When you are buying a property in Tenerife you should allow about 10% on top of the purchase price for costs like:
- Purchase Tax (Stamp Duty): For Resale Property: 6.5% of the purchase price. For New Build Property: 7% of the purchase price.
- Notary Fees: Typically range from €600 to €2000 or more depending on the property.
- Land Registry Fee: Approximately €400 to €800.
- Legal Advisor/ Accountant Fee: Around €2000, but this may vary depending on the complexity of the property and services required.
- Bank Mortgage & Valuation Fees: The costs associated with financing a Spanish real estate purchase can vary widely based on several factors such as the property's purchase price, location, consultant expertise (lawyers, brokers, agents), and transaction terms agreed with the seller or estate agency. As a reasonable estimate, expect costs to range from 10% to 15% of the purchase price.
---
Money Transfers & Currency Exchange
When purchasing property in a foreign country, the currency exchange rate has always been an important consideration. In the past, many people relied on their own banks for transferring funds abroad, assuming they would get the best rate. However, the landscape has changed now, with several Currency Companies offering more competitive rates, resulting in significant cost savings.
Despite the introduction of the Euro in many countries, Tenerife, with its substantial UK ownership in property transactions, often encounters the need for currency exchange. If you are buying a property priced in Euros while your money is in the UK in Sterling (or vice versa), you'll need to convert the currency. Previously, going to your bank and accepting the rate they offered on the day was the norm. However, this method incurred both your bank's transfer charges and the Spanish bank's credit charges.
The smarter approach is to use a Currency Company, which not only provides a better exchange rate than your bank but also ensures that the quoted amount is credited directly to the Spanish bank, saving you a significant amount of money. Even with a small administrative charge, you still end up with more money in your account.
Here's an example to illustrate the potential savings:
Let's assume you are a UK citizen with Pound Sterling in your UK account to buy a 200,000 Euro property in Tenerife. Your bank offers an exchange rate of 1.10, making the property cost 181,818 Sterling. However, a Currency Company might offer you a rate of 1.12 on the same day, reducing the property cost to 178,571 Sterling. With just a 2-point difference in the exchange rate, you'd be saving 3,247 Pounds Sterling! Even when factoring in any bank or currency company charges, the savings are still considerable. Imagine if the property cost were double - your savings would also double!
To explore more about the services and register with the recommended Currency Company based in the UK,
register here:  MONEYCORP
Insight:
Moneycorp are one of the UK's largest commercial non-banking provider of foreign currency. With over 30 years of trading history, the foundations of our core business have been built upon referrals from the financial services and property sector such as IFAs, estate agents, accountants and wealth managers.
---